Creatura Latex
 
Profile


Nick

:  Latex creature, absolute property of Lady FetishDea
Città: Sondrio


Ruolo

: sissy-maid
 

Latex creature is a doll who's in love with latex clothing… like it was her "second skin".

She likes to dress crazy without leaving an inch of "human skin" uncovered… full covered with the latex of his body it feels like a rubber object, a toy of desire.

She has a large wardrobe bought over a long period of time...... suits, dresses, gloves, masks, shoes, boots, accessories, dildos, plugs, gags, wigs and much more...


Click the photo for zoom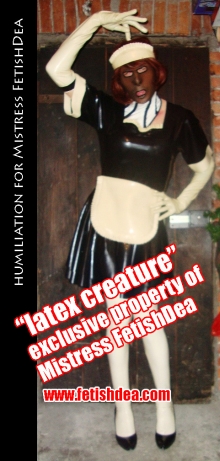 FOTOSHOOT AND SHOPPING IN MILAN .... WITH "PARTICULAR SESSION" - April 2011

They spent a few days from last chance when I could serve Lady FetishDea. I still clearly imprinted in my mind the beautiful footjob done by my Goddess. Here I am again for two wonderful days at this time under her feet.Lady FetishDea wants to accompany her to the Italian fashion capital, Milan, for a photoshoot. I feel very honored for the task. The appointment is for the first afternoon at the studio. I put on the road, this time Milan is nearer to other destinations than in the past time.
At around 13.30 pm are in place: a few minutes later I see the car of my Goddess, appearing preceded by that of the photographer. I carry in the car of Lady FetishDea, I greet Her and take the suitcase from the trunk to bring it within the studio.

After having placed in the room next to the photoshoot, Lady FetishDea talks to the photographer to arrange to look, poses, lights etc.. : Reflected the fact that the Lady Mistress knows her and is extremely fussy in search of details. After planning the fotoshooting, help my Goddess in the dressing and makeup for the first set of photos. I really like to serve her in this way, it makes me feel good and especially the first shots.Start them :  Lady FetishDea is very beautiful, as always. Time passes and I see the increasing feeling among the Mistress and the photographer is a language that needs no words, it must spring from an agreement only looking us. I admire my MISTRESS move with charisma and assuming the poses suited to a Mistress of her level.

Her look is always magnetic and absolute power unleashes. They are intoxicated by her and I consider myself lucky to be her humble sissy. The photos are quick succession: Lady FetishDea decides to change. I am always there, attentive, caring for the needs of my DEA, is my task.  It's time to also some shots that captures Lady FetishDea in smoking fetish ... it is a practice that Mistress loves in particular way. Simply beautiful!

After about two and a half hours the fotoshooting ends. I Help the Mistress to change. We take leave and go out by the photographer. I always carry the suitcase of Mistress and place it in her car .Lady FetishDea exclaims: "Now take me in town, more precisely in Montenapoleone street. I will follow you with my car. "You will know that this path is certainly the most chic of Milan, the shopping street par excellence, a must don't miss. All the greatest fashion designers in the world have a shop in this wonderful street.

After about half an hour we arrived in the parking lot adjacent to Montenapoleone street: leave the car and we head to foot in the "fashion street". Chanel, Jimmy Choo, Prada, Cesare Paciotti are some brands of which we can admire the splendid rooms and the windows follow each other seamlessly: it is truly a spectacle to observe clothes, shoes, handbags and other accessories.

We enter into a beautiful antique coffee to take a drink. Then we go to the store of Louis Vuitton, as the Goddess loves this fashion house. Let's go: beautiful furniture, lamps, mirrors, all well-groomed.

Lady FetishDea see a beautiful pair of sandals in three colors wisely mixed with beautiful high heels. She wear the shoes  and I must stay that fit perfectly on Her Divine feet. She is very pleased: even the shop assistants are the compliments on how to wear them. I think: "The class is not water." Lady FetishDea buys them. We leave and head at the workshop of Jimmy Choo. Here we see some beautiful shoes, sometimes even original, but it is beautiful to observe the colors and Swarovski crystals embedded in high heels. Last stage, the maison Chanel. Here Lady FetishDea tests some bags of different shapes and colors, all are beautiful. One in particular is her favorite. I believe it will soon be a tribute that will require its slaves.
Let's go back to the cars as the sun sets. We leave Milan and take the highway to return to the home of Mistress. During the trip we stop for dinner in a beautiful Japanese restaurant known by Lady FetishDea. A delicious sushi and we put ourselves on the road. The moon accompanies us: Lady FetishDea shows me a hotel adjacent to her home. Draw near to a roundplace. I go down and greet with a nod to bow my Lady Mistress. "Goodnight servant, see you tomorrow morning from me, I'll call you and give you alarm clock. Now go to the hotel. I'm going home. "


I go to the hotel, I climb in the room and within minutes are lying on the bed, naked and completely shaved as required by the DEA ever. I close my eyes, I'm tired but happy to have spent my day at the service of Lady FetishDea. Who knows what awaits me tomorrow.

In the morning, around eight o'clock, the phone rings: it is Lady FetishDea. "Are you awake? Well, get dressed, have breakfast and come to me. You have forty-five minutes long. See you later. "Firm message, inflexible categorical tone: I run and do so to meet deadlines. Lady FetishDea admits no delay whatsoever. Reaches its home according to his wishes: before with my suitcase full of clothes and accessories made of latex. I greet the Goddess as befits prostrating at her feet. "Well slave, now wearing the pink and white apron that we bought a few months ago, together, remember? Under the dress worn white body and white stockings. Then put the wig and a pair of shiny black shoes with low heels, as befits a servant. Cartels? "You have ten minutes.

I run an orderly and ten minutes later I'm ready.
I am used to the following tasks:

- Cleaning up the back of house and leaves in the garden
- Cleaning the houses of your wonderful dogs and excrements
- Cleaning up the garden in front of home and leaves.

When I finished I stay in the garden because they are going to get two construction workers who must perform maintenance work on some walls of the basement of the royal dimora.Afetr about half an hour that the builders have started work, Lady FetishDea calls me back into the house and takes me in the basement. A mason is on the threshold of the garage: Lady FetishDea draw his attention and I got up the apron to make him a better look at my stockings. I feel humiliated and ridiculed, but happy to be shown in public. The Mistress brings me to the room where her beloved dogs normally sleep: I have to remove all fragments of concrete and debris accumulated on the ground. Then with a bucket, mop and mop the floor work. Same operation in the garage: the atmosphere here is much bigger and work harder, but I regret I did not snort it. While the two masons working hard to see me approach more closely, perhaps they can not tell whether they're a man or a woman. They greet me but I do not answer: they are not authorized except with express permission of Lady FetishDea. I pick up the pieces, wipe skirting the perimeter on their knees, aim carefully, then wash all the floors: I have your back to pieces but I'm glad I helped my Goddess.

Is afternoon and a Mason salutes and goes: it is one that Lady FetishDea knows. My Mistress takes me in the laundry room: if the trunk has with the instruments of torture. Outside the door waiting for the builder, "and enter slave stripped" exclaims Lady FetishDea. He comes in and takes off his clothes and remain naked knees. The Mistress apply to me a big ball-gag in mouth  I can not speak. "Now get up the maid outfit and show your underwear to the slave." Executing: I see with pleasure that the man is watching me, "Now open your body and you show that you're a man." I open my claws and pull out the worm. "Did you see the slave, my servant is a man but is completely shaved!" - Come sissy. " I approach and Lady FetishDea binds me testicles with a rope. Then I apply a condom on the penis. It is addressed to the slave and orders him to swallow my penis. "Take a deep blowjob to my servant, true like you, slave?"
I am standing with my dress pulled up and the worm sheathed in a condom. The slave comes up and starts to take the worm into his mouth. It works with taste. I'm amazed: a man is sucking my penis! "Come on slave, everything in the mouth" - Lady FetishDea exclaims as he takes the slave's head and forces him to enter his mouth throughout the auction. Meanwhile Lady FetishDea gives lashes to the slave and to me equally.

"Servant, are you enjoying? - You must come at my command, NOW! "I obey my spray and sticky liquid, while the slave still has my mouth the worm. As I reach orgasm Lady FetishDea shakes my testicles. A feeling of pain and pleasure expertly balanced. BEAUTIFUL! Thank you both for this Lady FetishDea original session. We both put on our clothes. The day comes to an end the slave out and I still have a few moments to take care of my Goddess. We return to the ground floor and my Goddess sits on the couch: I stand on my knees before her and kiss her feet holding them with both hands. With my Goddess for this wonderful experience! Even today I made another step forward in complete submission to Lady FetishDea


A complete sunday at service of FetishDea



I never forget forget this date November 29 th 2009. I have the honor to meet, to adore, to serve, to prostrate me under the feets of FetishDea.

The night was passed sleepless The emotion has made rising the adrenaline.I was into the early in the morning to be in time. I don't want to arrive late. it would not be a beautiful enter ticket.

few hundred meters before the regal home of FetishDea my heart begins to beats crazy. I called her and she gave me instruction to reach.
I went out of the car and I observed the regal home. Very beautyfullmy legs strated to tremble. Previously, at the telephone, You, Divine FETISHEDEA orders me immediately to bring everytihng in the house I was so excited that I went back and for tree times always forgetting something.
I let you imagine the reaction of the Mistress
I take courage.I entered with all of my baggage (four suitcases!!) and I saw the mistress setted on the stairs..observing me..and she told me: " you were thinking me already latex dressed , with make up, on my stiletto high heels. unfortunately not!!!" In fact she still was with nightdress. And she added with imperious tone: "You know why? I want you my slave, help me to wear the suits in latex!
I replyied: "Yes."
Following such answer the mistressr, with a very annoyed tone told me, looking me in the eyes with her magnetic looks. "yes, what??" and a sonorous slap departs on my face I understood to have been wrong and with a thread of voice whisper: "Yes Lady".
You day is preannounced to be very difficult and binding.
Shortly after to be takes back me from the received slap, the Divine mistress wanted me helping her to wear suits and the lingerie in latex.
I must polish with the spray directed him toward the mirror. I was observing and I didn't know where to look at The Divine Lady or to the mirror.
You it immediately brings me to the reality saying angry: "Maid, you are here to work to serve me, move on, is it clear? ".
The message reawakens me and shaked my brain.


At the end of the dressin tests, she told me to show hermy wardrobe.she looks interesting dresses, masks,shoes,gloves: after tha she ordered me to dress as maid. I started to undress me; she looked to my intimate without peel I weared white socks, garter belt,and bra then I weared the siliconebreast very big size. slips and maid dress. at the end withe gloves. The mistress observed me and choosed the latex mask to be latex maid
I assure you that to wear the mask from her hands made me waving the whole body. Then she puts me the wig. At the end she ordered me to wear the black stiletto high heels. really are very high .The mistresssaid: "they are not suitablefor a maid; where do you think to be, to a fashion event?
Next time I want you to be with lower hells! you are only poor slave here to work hard!





I was scared to get another slap but fortunately was not. "Go to bath! we have to take care about makeup!" I was on my knees, she put me the eyeshadow, the lipstick of a red fire and it lengthened me the eyelashes. Then shetold me: "sit up look to the mirror." I got up me, I observed me in the mirror..I really loved myself in such way, but i didn't tell to Lady Doll Veronica was ready.obeying to Lady fetishdea orders!

.. After having carefully cleaned the floor from the urine of her beloved dogs, we went back to the bathroom, HER MISTRESS raises her skirt, then sits on the toilet ... she suddendly ordered me to kneel before her and to hold her the toilet paper between my fingers. ... turning me into a roll holder .

I see her divine nectar gushin' out .She warned me to watch it going ... .... Gosh, how I wished to be at the same moment under her golden stream with my mouth wide gaping to welcome in my humble mouth the divine nectar. ... I wonder if one day the dream will become reality.

She only allows me to sniff the toilet paper after wiping. ... I try to inhale as much as possible to soak up the smell. ... Believe me, the smell is intoxicating ... I'm ecstatic the MISTRESS asks me:

"Do you like the smell of my divine nectar? "

I promptly replied "YES MADAM! " This time I saw a smirk appearing on her face ... .. a simple smile that gratified me.

MILADY MISTRESS then lied on the couch. ... She ordered me to remove shoes from her feet. ... Then I started massaging her feet with some cream.

It 'a sublime experience, be able to look after her beautiful feet ... She gave me some valuable advices on the techniques of massage ... ..She is a unique MISTRESS !!!... and I have been totally bewitched .

It was almost 7 p.m.. ... We went back together into the bedroom where MILADY MISTRESS commanded me to download all the photos that we have shot during the day on her computer ... .. there were almost 100 photos!

Mistress looked carefully at them, one by one. She chooses her favorite ones ,. I see her satisfied with the result and believe me, .. I was very happy to see her so pleased.

The day I had the great opportunity to serve FETISHDEA rushes to the its end .... The mistress orders me to undress myself (I felt so sorry, believe me!) ...

. She suddendly asked me to look straight into my eyes: "Slave, how did you feel today? "... .. I said" Great, M ILADY! ". ... It's already time to return back to whom I am in my everyday life . ... I packed back all my clothes in my suitcase under her watchful eyes. ... Then I went ahead outside in order to put it all in my car. ... then I went back to greet the MISTRESS. ... She was sitting on the couch ... She firmly commanded me , 'Come here and kneel before me to say godbye " I enjoy to please her and I waited to hear her opinion ... .." Here she is my latex slave ..." While talking gently to me she takes my face between her hands and gives me a kiss on the forehead ... .. I never thought I deserved so much from her !!!!! Not only ... .. She gives me a brochure with even some of her photos and I felt like I were are flying into the sky ... .. ... .. I felt a lump in my throat. ... A tear of joy plowed down my cheek .... I have for the first time the hearth to look straight into her eyes and say, "Thank you MADAM for having allowed me to serve you ... I would like to undertake a long path along with you. ... if you let me " She looks into my eyes ... with her magnetic gaze. ... and gives me a pat .... I see a tear appeared on her beautiful face ... .. my heart started beating faster.... It is time to leave her royal house. ... I get into the car .. I turn my head back to her and I notice that she wawes to me ... The engine starts while I look at her wawing back. Again ... She also repeats the gesture ... .. I feel good ... .. I put her brochure open with all her pictures on the passenger seat nearby me . ... It was a way to get MILADY once more close to me,

The trip back is long .. I'm tired ... but I'm happy, very happy. it's raining ... .. I am glad to have spent a Sunday at the service of FETISHDEA ....