Press survey
Ottobre 2011 - Io Donna, by Rusconi Editore

Look, smell, massage: overwhelmed by "estremities".

Who will step on (well-heeled 12). Those who wear garments made of latex. And who spends a thousand euros for 3 days in captivity.

MILAN - There are those who prefer them naked, some with socks. Many are drawn to shoes, sandals or cleavage, boots, and Valkyrie. They are the foot fetishists, lovers of the extremities, voted to the worship / sniffing. The practice, among the most popular in the parallel world of erotic fantasies, depopulated in the network: the Facebook groups that have hundreds of fans, the portals where mistress and femdom, female domination, we propose to aspiring slaves, men servants
..
Read and discuss on my forum:
http://forum.dominity.com/viewtopic.php?p=29777#29777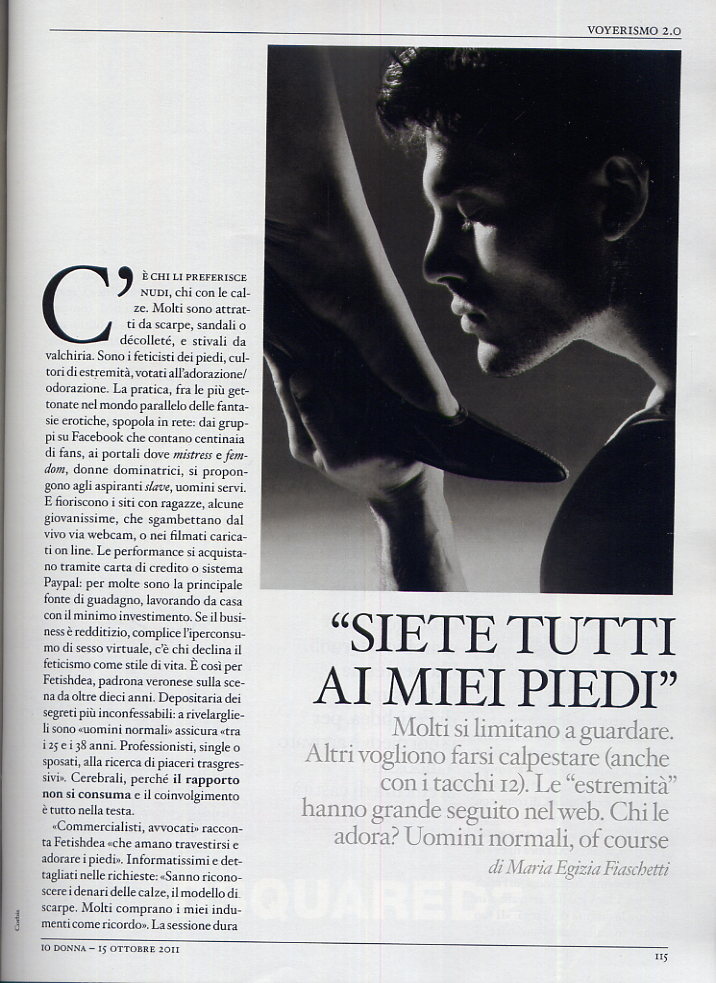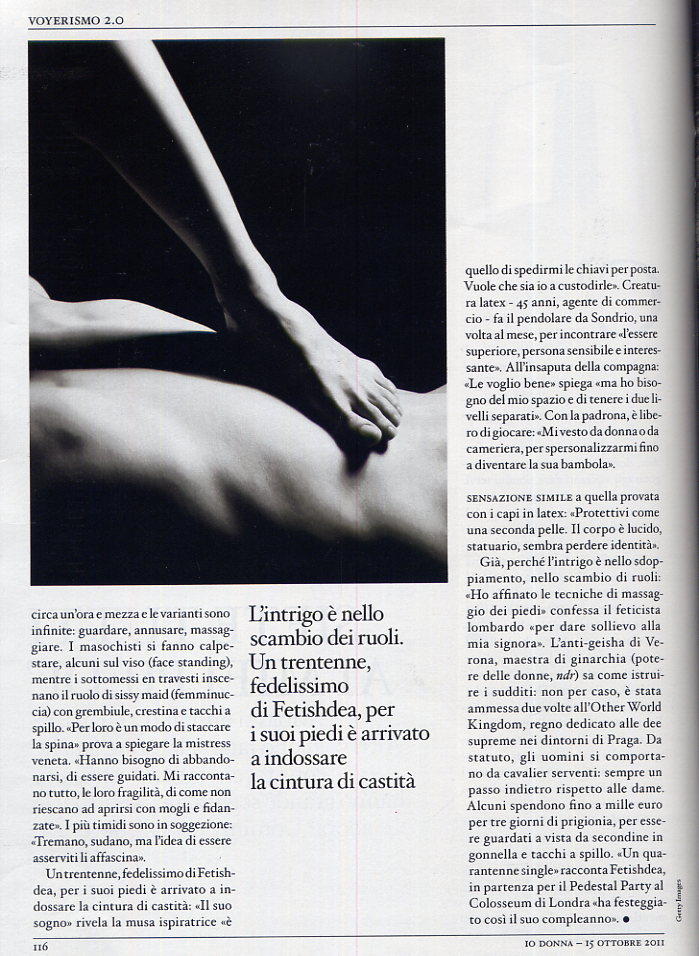 25.10.09
- Males? I put them under My feet!

Before Her me kneel down. They beg Her to let them serve Her. And if they misbehave, to be punished. Angela, aka FetishDea, actress face and pin-up body, is strict. She is convinced that the "strnog sex" must be trained. And... abused!

by Grazia Visconti, photos by Christophe Mourthe'

A taxi stops before my door. A business-clothed, respectable man comes out, his case in his hand, and he says:
"At Your service, my Mistress, I am Your sissymaid" (one of the favourite role-plays).
Serious, his glance lowered, he opens his case and picks a parrucca, a black dress with a white binyl skirt, high heels, socks and white gloves. I order him to dust the furniture in my bedroom. He executes every command, showing an incredible skill, in spite of his 15cm (6 inch) heel. While he polishes the floor, the windows and even the bathroom, he confirms what I already know:
"I belong to a Brazilian mistress. I am here today because she is on holiday and I felt lost without anybody to obey".
Max, instead, is one of my most faithful fans. He is also a manager, the one you would call a man to marry; he works in the fashion business and he travels to the most wonderful cities in the world. But twice or three times a month he is at my place, and neverr empty-handed: he know he is to bring me oil, wine and balsamic vineger from his region: I am very fond of it. We were together also in Paris, in a lovely hotel: he slept beneath my bed. For me all this is normal, it's my life. FetishDea's life.

His breath becomes faster.

Men kneel down before Me. I am their Mistress: a strict, cold, merciless dominatrix. They beg Me to kiss My feet. I take a satin collant out, who slips away slowly, unnoticeably. Until I sense the servant's breath getting faster. I cross his glance: I know what he wants. He is awaiting My order. And he will have it, I know how to give him what he is looking for. Since 10 years I am FetishDea, a professional dominatrix, that's how we are named in hardcore erotic. If one is not experienced in our world, I describe myself as "an international model, specialised in the ardt of domination". I pose for photo shootings, I organize theme events, I participate as a star guest to disco evenings and to TV shows as well. Since a few years I opened a (very popular) website, where my fans can download photos and clips but more importantly they can read my news and contact me. When I play as a fetish actress I go to a real castle. It is called "Other world kingdom": it is the name of an ancient hotel, in the wood near Prague. It is devoted to female domination. There are prisons and stables and cages, true torture rooms, and all what we need for our role-play. Here I co-produce DVDs which are then sold worldwide. I am not just the main actress: I also conceive it. I write the text, I choose the scenarios, the dress and then... ciak!

Happy to be trampled

Why do I do all that at all? Because it is natural for me to command. One doesn't need to look into my past for pain, sadness or frustration as a "cause" of my choices. Of course there have been dark times, like in every woman's life, in every person's life: who has never had one? I really do think that men need to be trained and abused. I am able to recognise a submissive man at the first glance: from the emotion his gesture betrays, from his trembling hand, from the way he lowers his glance in My presence. I am often asked: "How do you know that?". My answer is always the same: "I love to have men at my feet using all the weapons of female seduction.".
Already as a child I loved fairy tales with strong queens, who feared nothing and would rule their subdues and their kingdom with a firm hand. In everyday life I am a very normal woman. I stand up around 9 a.m. and first of all I feed My dogs: I have several of them, some collected from the streets, or abandoned. I am a convinced animalist. Then I have breakfast, if possible in the garden, while I answer my e-mails and I organise the working day. Often I go out for lunch. In the evening, if I am at home I go early to bed, with the TV on and my notebook on my knees. Once a week I like to go to the disco to recharge my "battery". I like house music: it is like to inject pure adrenaline. Otherwise I go out for dinner with some friends. I love people who look like they are, without masks. And who do not fear to show their weaknesses, maybe at a glas of good wine. I have also my weak sides. I am very sensitive, maybe too much: even if I would not want to, I always suffer if any of my slaves leaves without an explanation. As well I suffer sometimes for the relationships with women, that are often difficult. In my mates I see a shadow of envy, maybe for the freedom and the autonomy that this world offers me. That hurts me, I feel down, because I'd love to share my experience with a friend. By the way I know women very well. Before being FetishDea I was an esthetist. For many years I talked with women. Of those years I kept the skills to enhance beauty and sex appeal. I used that on myself, experiencing the art of seduction to understand to which extent my charme could influence men. To be honest, I did not I would be so succesful! I could not imagine that there are so many men (also famous and unsuspected) who have the wish and the need to play with a whip, to inhale satin collants, to be trampled on their face. And I fulfill them.

| | |
| --- | --- |
| | Download the pdf ... |







NEWS! From 21 July, in TU STYLE n. 30, you will find the new interview of Lady Fetsihdea.
Prestissimo troverete il pdf per leggere l'articolo completo.

- NEWS
Article published on the iNscena Magazine
: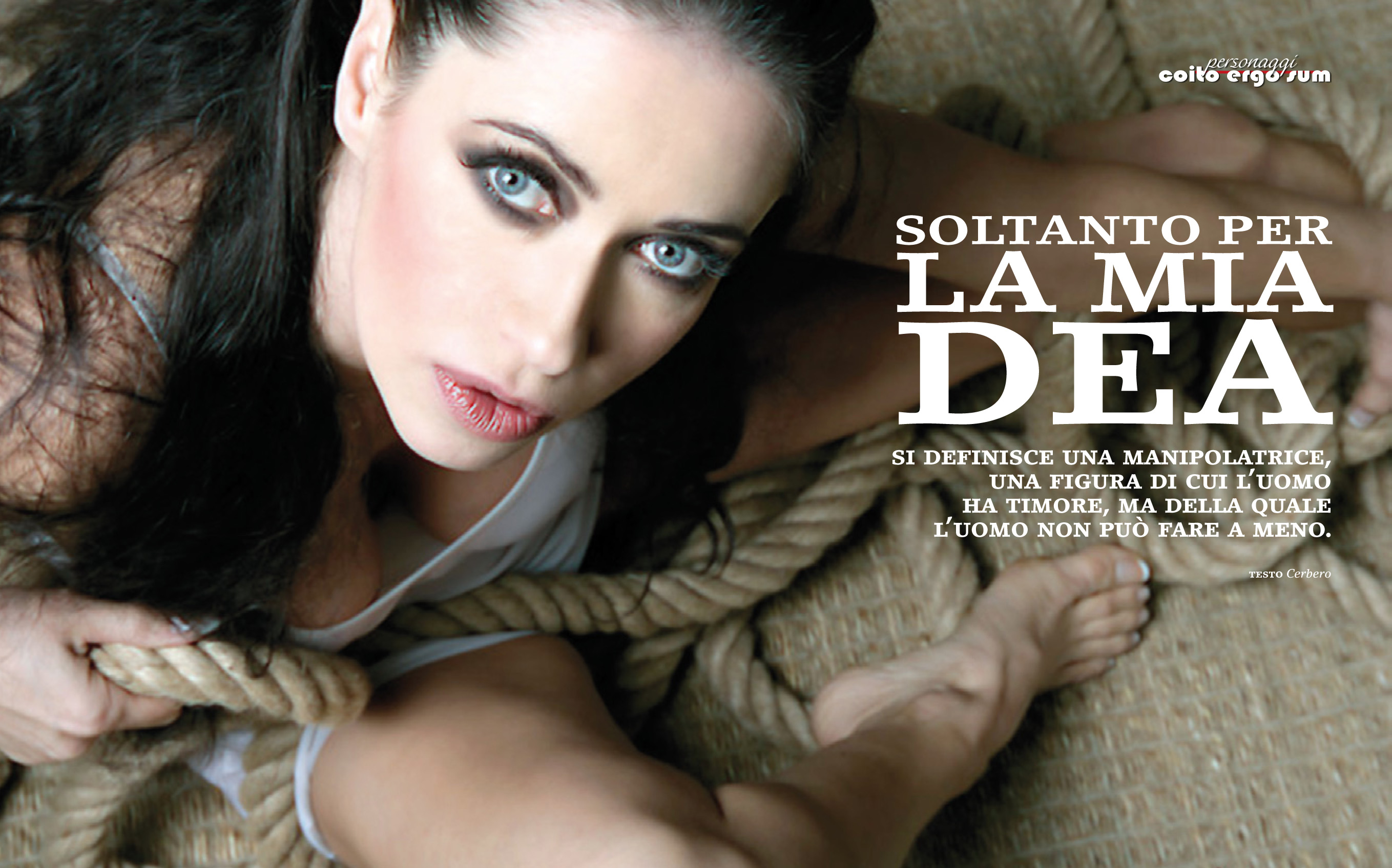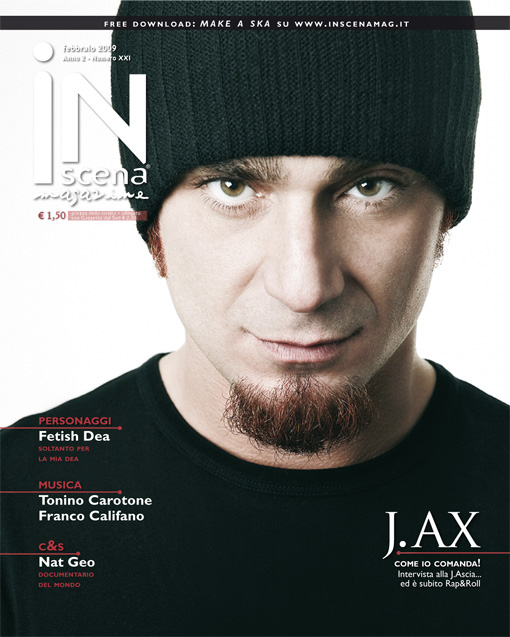 Preview article.....
My voice...
| | |
| --- | --- |
| | Download the pdf and you read the article... |




Article published on the LINUS:


The Power? A perverse game:

The sadomasochism: not collar, leash and whip but something more complex. That starts and develops between two people that define themselves consential. Crossing the data Durex and Istat of 2002 we arrive to a significative number: 3.600.789 are the Italian people who have passion of sadomasochistic practises. Master and slave, mistress and slave: is it only an erotic variant, a perversion, a show for themselves and for the others (during parties and meetings) or a thin, invasive, enveloping game of power?
The MISTRESS
Name of art: FetishDea. Clearly coming from the north of Italy, SHE is the only Italian Mistress who every year is called by the owk, a cinematographic production in Praga specialized on the theme. SHE is Italian guest star in "Nuit Demonia" in Paris. HER site:
www.fetishdea.com
Fetish and domination on the other sex are a real passion and an authentic life-style for ME. I mean that I do not play a role, simply I am MYSELF when i "capture" a potential slave with MY sight, or with MY way to walk, even with the simple movement of MY hands: i love to have men at MY feet, using the refined weapons of feminine seduction that - since i was very young - i have always noticed that they exercise an irresistible charm on males. That's why I love classy lingerie, perfect trick, sexy dressage, in particular latex one, high heels, silk stockings, painted toenails and satin gloves. All instruments that I use with wisdom to chain a wannabe slave, that, with my experience, i manage to individuate with only a sight,  to me.
Many men, even those who have great power in their professional life, feel the need to exchange the roles in private and surrender completely to the charme and the dominion of a sexy and charming Woman  who commands them strictly, also and in particular in a cerebral way; this, like I said before, is for ME the most refined and elegant way of domination... I know slaves that are happy to do my daily shopping, or that simply take me to restaurant without asking anything but allow them to serve ME in MY wishes and to give them orders to satisfy my whims... I don't consider it a perversion, but an interesting aspect of erotism that, according to ME, when it is not obsessive or extreme, represents a sane form of freedom of expression which requires much intelligence, complicity, mental opening and trust in each other.
Written: MONICA MAGGI
www.monicamaggi.it
Enter FetishDea memebers area:
Password:
Haven't you registered yet?
click here