Role play
Role Plays


I am satisfied that you want to know me and start with me this path that will change your life. I frequently update the web sit to allow you to understand my culture and philosophy of life. Only in this way you will discover what I love and which are my values.

Romantic evening and Slave Bancomat

It 'a great night for you! Noooo, don't you go out with me tonight. You will be my driver locked in chastity, you will bring me to restaurant and wait in your car after dinner till when i will back. I will also pay the bill with your cash. I have special programs for you. Maybe when we return home you could prepare for me a hot bath, light the candles and then ....
Curious??
Write me an e-mail presenting like"MONEY FOR ROMANTIC EVENING " and you'll know how i use you!

Cuckoldress wife

We make a good game!
 
I' m sure that your cheeks blush with shame !

Yeah, because now I'll turn in your wife that has discovered your perversion... your addiction ...
Look, this is your password, right ? Too late, I'm coming into your computer and saw all the clips that you havve downloaded, yeah ... You're a little pervert!

But you are getting bread for your teeth :  when you return at home, your dreams will come true...I will give you many slaps that you see the stars and the heavens, and hear the birds sing !
I will tie to the edge of the bed with a good chastity belt and you'll see the xxxx of my young and ardent lover.
Perhaps, I will give to you to masturbate, but only if  humiliates you.
I love to see you in these conditions, you know it?
You know I'm his wife cuckoldress that you always wanted and desired...
and now I am here, your nightmare comes true ...
 



EVENING WITH DINNER 24TH OF APRIL 2009
The 24th of April I will invite dor dinner the beautiful Bizarre. If you want to be present as Sissy Maid, scullery boy, doormat, just send me a presentation to
dea@fetishdea.com
MAY 2007 EVENT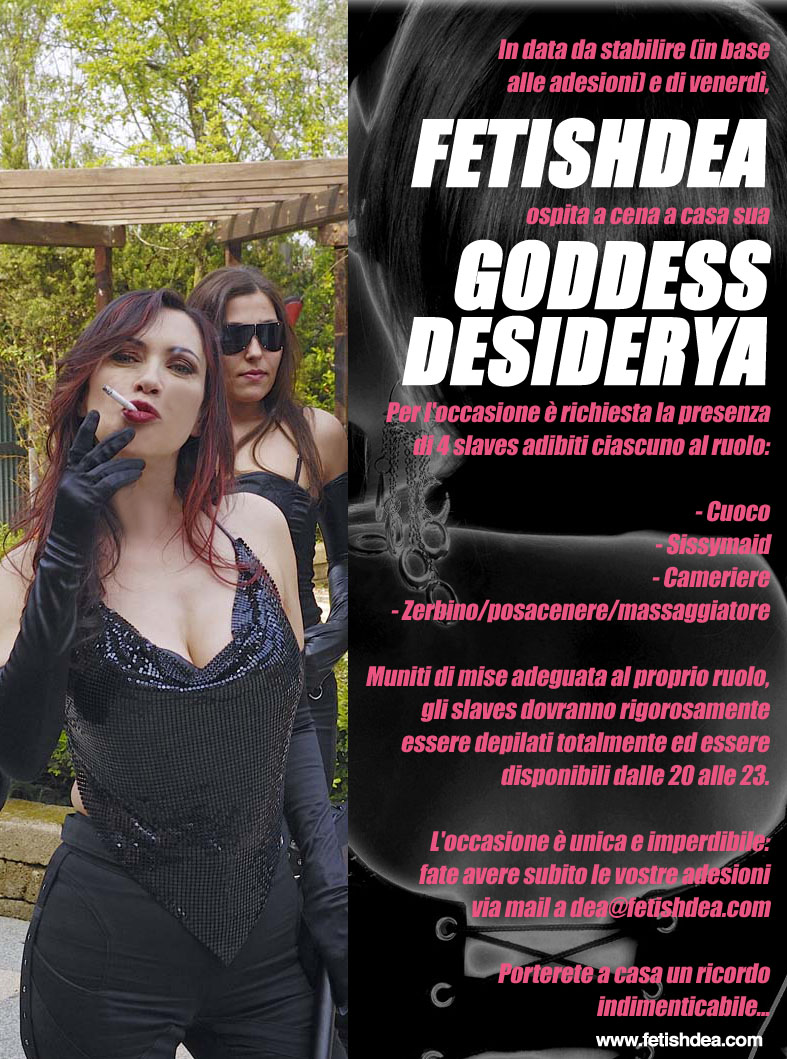 Click to enlarge the photo
I am fascinated and expert by role plays which require intuition. I love to discover who I have in front of me and what he/she needs. I am excited and stimulated by role plays, I want to show the maximum experience I have improved in the years. I require to my guests an elevated level of psychological comprehension, the maximum concentration, nothing will be leave to chance, from the first moment we will meet until the last good bye.
During our starting lessons I will be careful to understand your desires and the expectations of our meeting, it will stimulate my fantasy…
Now enter in my VIP area and we will far from prying eyes and so you can discover more than ever how will be our meeting. Come closer to my lust world made of strictness and gratifications!!!
The more you will be open to me the more I can deepen your hidden desires and the more you will be satisfied from my discipline's lessons. I have an unlimited fantasy improved in years of experience, in my opinion every meeting better more and more my domination's style, inborn characteristic of my being woman, female and sensual.
Be a mistress does not means be brutal, reward together punishment is the right instrument of teaching in my work. It is important that you trust me, only in this way you will be free to obtain more satisfaction during the meeting. You have to know that all the limits discussed and agreed in the conversation will be honoured.
I have a lot of things to talk about, you can follow my path and it could be your path also…you reach a freedom that will help you to know yourself in deep. Bdsm is freedom of express what we are. Don't be frightened to confess me your fantasies and limits.

Lady FetishDea