OWK 2006
REAL LIFE EXPERIENCE, BY LADY FETISHDEA
Venezia April 22nd 2006, 2.30 pm
I leave Venice on a flight to Prague; destination OWK
Once I arrive at Prague's airport I find there a chauffer from OWK waiting for me. Half and hour later, we arrive in the world's most desired destination for both subs and Mistresses. The staff greets me and escorts me to my room where I let my clothes, which have been closed in my suitcase for quite some time, breath a little.
The room is stunning. It has a king size bed, a bath, a shower, but the most interesting features are in the hallway. It is there that you feel you are in the right place: a cage, a cross, a wooden plank, a chair with spikes, whips, chains and ropes for the bondage, are some of the objects available to each guest, together with some videotapes.
I am restless and curious to meet the other guests
.
First, I meet some gorgeous Mistresses coming from Belgium and Holland. They will share with me this adventure.
But I'm mostly interested in the slaves. They are all here, at my disposal, and they only speak English… but the language of the whip is international… don't you think? And indeed, I did not find any difficulty in making myself understood and obeyed.
I choose two of the slaves. One is ginger with a round face. He really looks like a little pig, and this resemblance makes him somewhat interesting. The other one is is thin. I will use him to ride... in the open!
It is dinner time. All the Mistresses eat together, served by real slaves, with over 10 years of experience. I go to bed quite early. I want to be in good shape for the following day. 
OWK April 23rd
8am: breakfast; then hairdresser; make up; and dressing, both for me and the slaves.
Everything is ready for a shooting. The theme of the movie is: one of days at OWK. Everything is duly filmed: a slave wakes me up and serves my breakfast in the dining room. The other slave slept all night in a cage in my room.
I go outside because I want to visit the stables and I want to try out my...
...horses and those of you who know me also know that I'm VERY demanding. The training is extremely hard and these 4 legged slaves are tired after just half a day. Will they be able to make it to the end of the second day?
Once we are done with the shooting I send my slaves to prepare a bath. I really need a relaxing bath. They are very excited to follow me in the bathroom. I even let one of the slaves in the bathtub. No... it's not what you think... have a look at the movie: "'FETISHDEA! ABSOLUT FEMDOM'' and you will understand...
It is lunchtime and I must say that they waiters are pretty useless. I had never seen such a clumsy bunch before.
After the movie, I get ready for a photo shooting. We took pictures of everything. Everything!!
We finish the shooting at 6pm. Then we go to dinner and I choose the slaves for the following day. I could I abandon my little piggy and my skinny horse? The whipping is even teaching them some Italian.
OWK April 24th
8am: first breakfast, then we start shooting again.
I decide to continue the training of my pony-boy dressed as a cow-girl. My little horse has a beautiful long black tail that I brush quit often to keep it smooth and shiny. I put on him a saddle, some handles and… go!! Despite wearing some pads, my horse has red and swollen knees, even though I only weight 48 Kilos. I wonder what would have happened to him if he had a Mistress weighting 20 kilos more than me. He tells me that he doesn't feel like shooting also in the afternoon. I let him believe that he will be able to rest but the reality is that I will use him till the end of the day and that… you will see… he will be happy… he will be smiling at the end of the day! You will understand why from looking at the pictures... he really liked black wax… especially… in a particular part of his body... and then… my champagne… that really boosted his moral!!!
At the end of the day, we do a little work-out all together. Some 'hula-hop', some dance, and then I take my flight back to Italy.
In the VIP Area you will see many puctured of this fantastic experience: my first time at OWK. It was truly an unforgettable experience, both for me and my 2 slaves. I am pretty sure that they will never foget me!!!
RACCONTO DI SERVO MARTIN 2006


 Fetishdea be me in good remember.It was a very beautiful time with you  in the OWK.
 You are a very beautiful mistress. I have so much fun to be  her watchdog " rrrrrrooaarrr"
 Keep attenion thats my Mistress!!! And also to be her small horse.
 I can recommend only all if they have the possibility itself into your hands to come from my own experience.
Her radiation and the mixture from sugar-bread and whip  is absolutly great..
Also her empathy I dont speak Italian and she dont  speak English and we hade no problems by the movies.
She always to lead me it knew like her wanted.
I has met the tenderness however also the strict  of this Mistress. as film-slave in the OWK actually is not it normally 
that one is personal slave of a Mistress this mistress however had reach  that.
She has pulled me into her ban completely with me easily and it was an enjoyment for me.
 I hope i can meet this Mistress again.

 Your OWK slave Martin!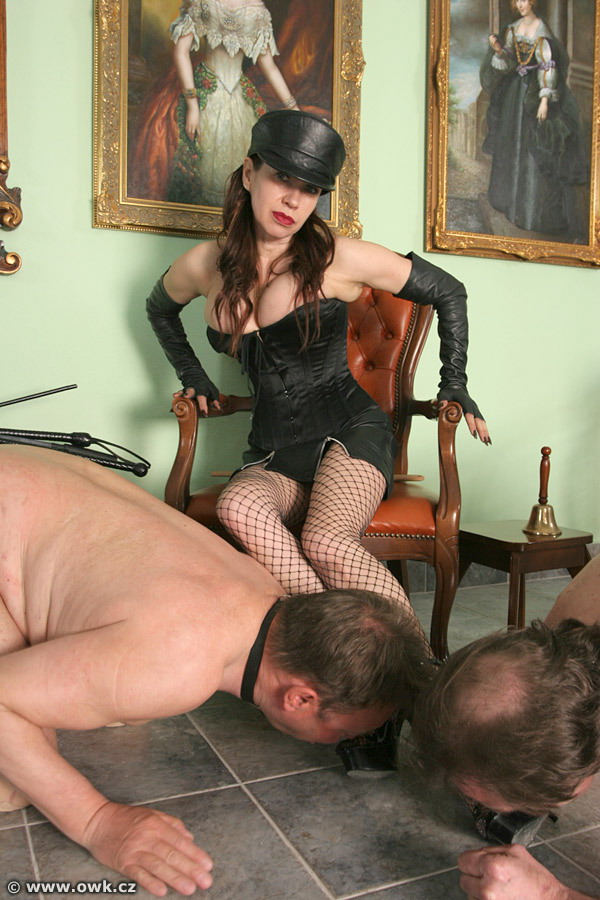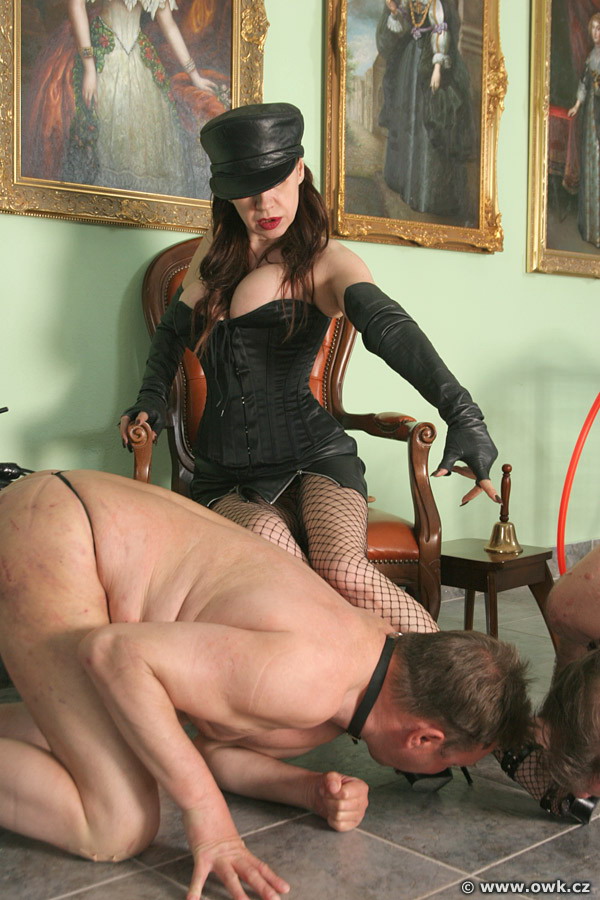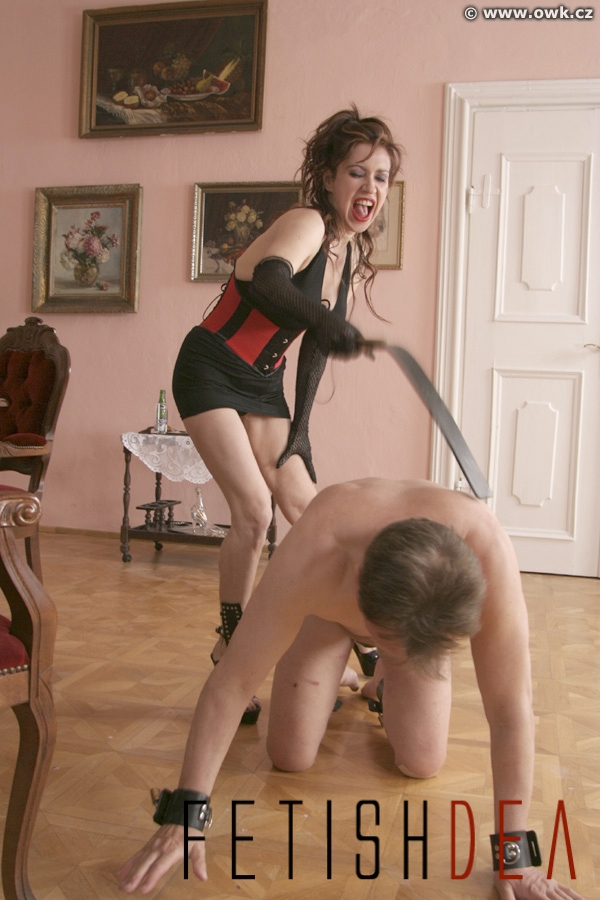 Click on the photo
Photos Slave Martin and Karl
 ENTER MY AREA VIP
RACCONTO DI SERVO KARL
After two movie-days with the strong ladies from Belgian I was anxious to theItalian-Lady.
Shewas the analogue, slim but still with attributes of a woman.
As an actor since 6 years with more then 30 stays in the OWK I regognize
the power of Lady Fetishdea.
I had the choice for filming between her an the Dutch Lady an I get the
right one.
Fetishdea associate Erotic with Dominance.
The only handicap was the fault of communication because of language
problems. But we make the best of it.
Our movies and fotoshootings
-Ponyboy-Trainign outside in the Riding-Park
-Massage in the bathroom
-Torture in the bedroom -Pig in the billardroom
-Torture in the greenroom and especial - Signora Commandante by the punishment of a housebreaker
in the office and the prison in the Queens Castle were the pure fun.
As a specialist I know that the pictures and movies get one of the best.
Karl